Giving the Gift of a Pet
by Trevor Page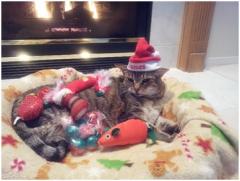 The holiday season brings gift giving, and many people consider the possibility of giving a pet as a gift. After all, a pet is a wonderful addition to any family, bringing fun, laughter, and lots of joy all year round. But pets also bring a lot of responsibility, and the recipient may not be ready to take that on, no matter how cute the animal is.
Rusko and Jax are the most special additions to my house. They're both adorable. They make me laugh. They give me a lot of joy. However, they also cost me a lot of money, require a lot of my time and attention, and need regular care at the vet to keep them healthy and happy. There's no question that they're the best gifts I've given myself, but I was fully prepared to take them on for life.
So what do you do if you want to give someone a pet this holiday season? If that person is in your immediate family, such as your child, make sure you're taking into account the age of your kids, the type of pet they would like, the type of pet that best fits your family's lifestyle, and most importantly, the type of pet that you, the parent, are prepared to care for. Did you know that studies show that most kids aren't ready to take on the responsibilities of a dog or a cat until they're between the ages of 10 and 13? Makes sense, right? But after that small age window, they'll become so involved in activities and social life that they're not likely to participate much. The pet is going to be your responsibility as the adult, so the decision should be largely your own. You should also take into account that your 10-year-old might like a Cocker Spaniel or a kitten much more than the Saint Bernard you're considering, or even vice versa. So, often, the best thing is to include your child in the decision-making process and reach it together.
If you're considering a pet for a parent or other adult relative or friend, the idea of gifting a pet is even more complicated. While Uncle Joe might have had a Golden Retriever two years ago, and he might have expressed an interest in another dog, a Golden Retriever puppy under the tree isn't necessarily the best choice. He might want an adult or senior dog or a smaller breed at this stage in his life. He's also likely to want to pick his own match, like a dog he feels more connected with at the shelter. Jax wasn't the dog I intended to bring home when I went to get a new puppy, but he was the one I felt that connection with when I walked in. Would I have loved another one just as much? Probably. But Jax felt special, and I just knew he was meant for me.
Your best option if you're considering giving the gift of a pet is to provide a certificate, like the one provided on Petfinder.com, to your loved one. These certificates promise that you'll pay for the adoption of an animal and that you'll go find the perfect match together. You could also draft something on your own computer! For kids, it can be fun to buy a stuffed animal representing the pet you're wanting to gift them and taping the certificate to the plush toy. For adults, buying a carrier, collar or leash, treats, or toys for the future dog or cat and including the certificate with those items would be a practical and fun way of announcing the intention to provide them with a new furry friend.
There's no question that pets are a great gift, but only for a recipient who is truly ready for one. They're a life-long commitment. Give an adoption certificate to your loved one this holiday season to give the gift of a pet and to give the pet the gift of a forever home, instead of being sent back to the shelter because they weren't the right fit.