Celebrating Pet Appreciation Week
by Dr. Shelby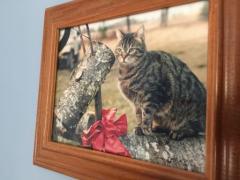 This week, June 5 – 11, 2016, is National Pet Appreciation Week.  As we do all we can, and should every day of the year, to show our pets how much we appreciate them, I can't help but remember the first pet I had as an adult out on my own.  
As a young girl growing up, I was always surrounded by pets.  I loved all of them dearly.  However, there's something extra special about the first pet you care for on your own.  My husband and I lived in New York City and decided to buy a run-down house in the Catskill Mountains where we would slowly fix up the house and get relief from city life on the weekends. After some searching, we found the perfect place for us; there was just one catch—the house came with an inhabitant that absolutely had to remain.  Fortunately, for me, Cammie was a female, tiger-colored cat with an adorable personality.  I was already quite the cat lover, so the choice was easy.  
To our surprise, a few weeks later, we learned that Cammie had never been spayed and was pregnant.  It turned out that we had inherited six cats, not one!  Of course, after they were born, I was so in love with the kittens, our formerly one cat household remained a six cat home.  
Cammie rekindled my life-long love of animals, especially cats, and that led to my getting involved with local cat rescue efforts.  The many strays I helped led me to frequent trips to the vet, including a visit to the distinguished Animal Medical Center in New York City.  I was in awe by the facility and the female veterinarian who took care of us.  It was life-changing.  I enrolled in vet school and I was in a successful private practice for over 20 years.  This, in turn, led to my involvement with whiskerDocs and the ability to help thousands and thousands of pet owners all over the world.  
This week, and always, I really appreciate Cammie and all she did to change my life.  I will continue to show my appreciation by always loving and helping the other fabulous felines that share my home now, as well as all the pets I can reach out to throughout the world.