Early Infant Exposure To Pets May Reduce Risks of Allergies and Obesity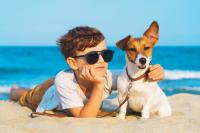 While there are a number of things to worry about when blending your pet household with a new baby, recent studies conducted by an epidemiologist in Canada may help parents rest easier.  Dr. Anita Kozyrskyj and researchers found increased levels of two microbes in 746 infants who's mothers had household pets either during pregnancy only or only prenatally and postnatally. These two microbes, ruminococcus and oscillospira have been found to impact the development of allergies and body mass index in humans.  
The study found that babies in the womb and up to three months old were exposed to these microbes through their mothers when pets lived in the household at some point during pregnancy.  The increased microbial levels suggest these infants may be resistant to not only allergies and obesity later in life, but group B Strep.  
So there you have it...pet ownership has just added a new positive to the list of benefits.  Not only can some of our pets protect us with a hearty bark or even a swift scratch, they can be microbial warriors as well! Who knew?