Night of the Attack Cats
by Veterinary Experts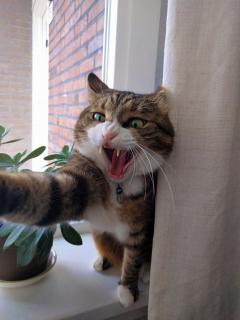 Dressing up for Halloween can often be the most fun and exhilarating part of the holiday, and our pets are not immune to our desires to play dress up (or at very least, they tolerate us making them)! For one sweet Golden Retriever named Penny, her Halloween costume was about matching her personality. She lives with 3 of her own feline friends and loves to mimic them by laying in the sun, laying on the back of the couch, and sleeping 18 hours a day.
Penny's mom Elizabeth decided that dressing her up as a cat was the purrfect idea as the family prepared for their trick-or-treating. As they went door-to-door through the neighborhood, Penny was even getting to collect special doggie treats from friendly, although strange-looking, neighbors. It was the perfect night for Penny, until they approached one house where things didn't go so smoothly.
Feeling confident with both her cat-like personality and attire, Penny was delighted to be able to introduce herself to a couple of cats on a neighbor's porch. She approached, tail wagging and showing no aggression, but the cats were certainly not impressed! Feeling threatened, the cats abruptly turned and attacked both Penny and her mom Elizabeth. (Fortunately, Penny's human siblings were unharmed.)
Elizabeth took Penny home right away to make sure she was okay. After a quick call to whiskerDocs for guidance, it was clear that Penny's injuries were not serious and would just benefit from a little cleaning. After a couple days of monitoring the injuries for signs of infection, everyone was relieved that Penny was on the mend.
In the future, though, Penny would prefer to act like a cat and hang with her feline friends in the safety of their living room, instead of heading out into the night.