We are dedicated pet parents. Like you, we want healthy, happy lives for our whiskered children. We created whiskerDocs to help pets and pet parents when it is needed most. Our service isn't designed to replace your existing relationship with your vet, but as a 24/7 support that you can always reach. We are here for those "what-if" scenarios that inevitably happen. We strive to better the life of every pet: every day, every hour, and every minute.
The Lion's Den
In the Lion's Den, we know how much better the world is with healthy, happy pets in our lives. Making sure we're always there to help is our mission, and loving what we do comes naturally!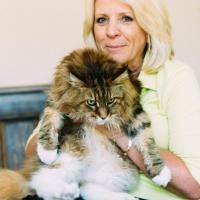 Deb Leon, CEO / Alpha Female
One day while sipping coffee on their deck, Deb's husband, Rob, said, "Why don't you create a 24/7 help line for pets, just like you do for people? There are millions of pet parents just like us who could really use the help!"
Because millions of families are wildly in love with their pets, it made sense; especially because Deb's business at that time was a 24/7 Nurse Help Line. Health Contact Partners served over 7million people in the United States, Canada, and Mexico, in its seven year history, and just like with our pets, things for families seemed to happen when the doctor wasn't available or while they were headed out the door to work. 
In 2008, Health Contact Partners was purchased by one of its client companies. After taking a year off, Deb decided to plunge in to help pet parents take better care of their babies. And so, whiskerDocs was born!
"It was risky to be the first ever company to offer true, real time support via phone, live chat, mobile messaging and email," says Ms. Leon, "but we knew that most things happen with our pets after hours, in the 100 plus hours per week that most veterinary offices are closed. And that created a problem. Our cats, for example, always seemed to have issues when our vet's office was closed or right as we were walking out the door to go to work. We desperately needed someone to call that could help us figure out what to do!"
We provide real time, instant 24 hour a day support for the loving pet parents of cats and dogs, soon to add birds and exotics.  Our veterinary team is available to help when you need it, how you need it and all at really reasonable prices!
Caring for your pets happens around the clock and whiskerDocs is always there to help!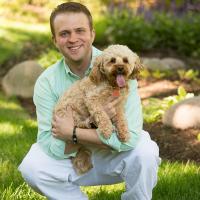 Trevor Page, President / CSO / Top Dog
Prior to earning his Top Dog title at whiskerDocs, Trevor first realized his passion for real-time access to health support while working at Health Contact Partners (HCP).
"Being able to reach a nurse on demand, 24/7, was a life changing experience," says Mr. Page, "I loved that what we did at HCP made such a huge difference. We even saved an 8 year old boy's life. It doesn't get any better than that. At that time, it took real innovation to do what we did. Today, we are still innovating with technology. Today, you can LITERALLY have that same access in the palm of your hands, no matter where you are or when you need it, and connect to someone in seconds."
Continuing with that excitement and commitment to excellence, Trevor gained additional success working for and consulting for various multinational wellness companies. His experience, coupled with his love for animals, inspired Trevor and Deb Leon to create whiskerDocs.
Trevor believes that whiskerDocs represents the innovation animal health desperately needs. Seeking quality care for our personal health has become easy, but for our pets? "We've brought the same stringent standards Deb and I learned in human healthcare over to animal health. After all, our pets ARE our family and we all care deeply about what's best for them. The good news is that we can bring what we learned about best practices in human health and bring those standards to the care of our beloved pets. Change is going to happen in pet care. We hope to make that process easier for not only the pet parent, but our medical professionals as well."
Trevor counts his two Goldendoodles, Rusko and Jax, as his children. Knowing that countless others feel the same about their furrier family members makes everything worthwhile. "It's time to give our pets the same quality care we would give our kids. If I can help bring this to the world, my life has been a huge success."
Bruce Truman, Strategic Advisor
Bruce has over 25 years of experience in companion animal sales, marketing and startups with a specialization in the areas of emerging innovation and technology in veterinary medicine. After serving as part of the founding management team of both a successful parasiticide startup and an innovative SaaS company he is proud to join the whiskerDocs team in a strategic advisory role.