Runaway dog from Alabama is found in Florida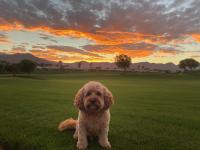 June, a 1 year old mixed breed dog went missing on June 15 after escaping from her fenced in yard while her pet parents were at work. Although dogs escaping and going on a little neighborhood adventure happens all the time, it's rare these escapades take them over 1,000 miles away.  That's right, June was found by the staff at Dodge City Veterinary Hospital in Kansas, about 2 weeks after going missing.  
After receiving several dead end leads from social media posts that pet parents Julie and Thomas Nguyen made, they began to lose hope of ever seeing June again.  That is when they received a call from the Dodge City Veterinary Hospital explaining they had a dog with microchip information leading to the Nguyens.  The Nguyens were shocked to learn that the hospital where June turned up was not in Dodge City, Alabama, which is closer to where they live in Alabama, but Dodge City, Kansas.  The veterinarian explained that two young boys brought her in for an exam after finding her on their way back from Florida.  
Besides a few scrapes, June was happy, healthy and wanting to play with everyone at the clinic.  In fact, her lovable nature and good behavior is what led the veterinary staff to suspect she belonged to someone and they were right.  While no one knows exactly how she even made it from Alabama to Florida, everyone, except maybe the two young boys hoping to keep her, are happy to see her reunited with her original pet parents.