Dog-Friendly Beaches Might Not Be So Friendly
by Veterinary Experts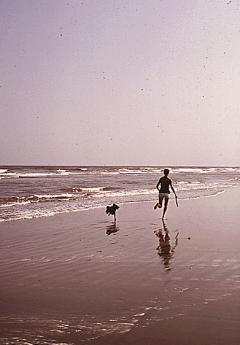 Warmer weather is here! The perfect time for a vacation to the beach, enjoying the sand in your toes and refreshing ocean breezes. And what could be better than finding a dog-friendly beach to bring your precious pup along for the trip? It sounds wonderful, in theory, but there are some risks, as one whiskerDocs customer discovered recently.
On the last day of a lovely weekend at the beach, George noticed that his precious dog Chloe started acting strangely. She was whining, which is not too out of character, but it still felt different somehow. Coupled with the fact that Chloe was rolling around on the floor a lot, and her tummy looked kind of bloated, he had a nagging feeling that something wasn't quite right. He let it slide for a bit, but when she refused her favorite treat, he knew for sure that something was wrong.
When George called whiskerDocs, he was just looking for guidance on what to give Chloe to help her feel better, but as the conversation progressed, both our expert and George realized that this could, potentially, be something much more serious because her belly was so hard and distended. Chloe started vomiting while George was on the phone, and our veterinary expert encouraged him to make a trip to the emergency room.
When George got to the ER, they rushed Chloe to the back, and ultimately asked him to come in the back so that the doctor could talk to him and show him something. They showed him an x-ray that showed Chloe's intestines and stomach were full of sand! So much sand, in fact, that it was creating a blockage in her intestines and distending her stomach.
George never saw Chloe eating sand, but she obviously did, probably through cleaning her own paws after days spent running on the sand and ingesting it when George thought she was simply digging holes in the beach. Regardless of how it happened, Chloe was vomiting contantly now, and if the sand wasn't removed surgically, it could completely block the intestines, rupture her stomach, impair her breathing and/or even prevent adequate blood flow to her organs.
Thankfully, Chloe made it to the emergency room just in time, before any of those awful consequences happened, and she made it through the surgeries okay. She ended up with well over 2 pounds of sand removed from her system! We can all agree that sand in your dog's intestines is one souvenier you'd rather not end up with during your next beach vacation!