The whiskerDocs veterinary team is comprised of pet health experts. Our team is based in the U.S. and is here to help with pet problems you may have, 24 hours a day.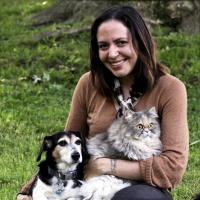 Nicole Rogers
Vice President of Operations / Cat Herder
Nicole is a veterinary technician who has been working with animals for over 10 years and has been an animal lover and pet owner throughout her life. Her experience in the animal care field includes working with cats, dogs, and even wildlife. In addition to working in the traditional veterinary medicine field, she also has developed skills in alternative medicine for pets.  
Nicole managed veterinary practices in the Philadelphia, Pennsylvania area, appeared on television and web series segments about pet care, and co-hosted a cat health radio show, all in addition to her volunteer work with local animal shelters and a wildlife rehabilitation clinic. On her own convictions, she even worked with park rangers to safely capture, rescue, and find homes for domestic animals illegally released in national parks. 
When asked why she feels so dedicated to caring for animals, she says, "For as long as I can remember, I've loved all animals. As a young child, I nursed orphaned rabbits, chicks, and turtles back to health, and always adopted the sickest, oldest animals from the shelter. As an adult working in a veterinary hospital, I discovered the joy of helping animals and educating pet parents, but also the frustration of animals getting veterinary attention way too late in the course of disease."
She says of whiskerDocs, "I've long wished that people had a reliable way to get advice about their pets but without having to run to the vet with every small concern. The demand for pet health information from reliable online sources is high, but the supply is incredibly low. whiskerDocs is exactly what pet parents need in today's virtual world, and I'm honored to be part of a team that is making such a huge impact on pets and their humans!"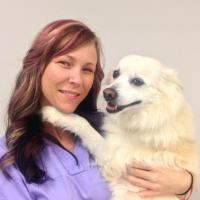 Alexandria Stone
Program Performance Manager / Deputy Dog
Alexandria, also known as "Tai", has been a Licensed Veterinary Technician in the state of Alabama since her first college graduation 2004.  She also holds a degree in Medical Laboratory Technology, a division of human medicine.  She was born in Germany on a Military Base and has lived in various locations across the country.  She is currently Lead Veterinary Assisting Instructor for Ross Medical Education, at the new campus in Huntsville, AL.  Most recently she worked at a US Army Veterinary Treatment Facility assisting with Military Working Dogs and training soldiers. She has experience in emergency and critical care as well as general practice, and has even worked in an FDA regulated manufacturing laboratory testing human plasma specimens for an international pharmaceutical company.  She enjoys spending her free time working with No-Kill Rescues, riding horses, and just hanging at home with her personal zoo of dogs, cats, lizards, and even back yard chickens!!   She has chosen to join the WhiskerDocs team because it gives her an opportunity to help animals across the country and alleviate the worry pet parents feel when one of those "middle-of-the-night" incidents rears its ugly head!
Camilynne Wallen
Client Experience Coordinator / Ring Leader
Camilynne has been practicing as a licensed technician since 2012. Her time in the field has been spent working in emergency departments, general practice, and specialty departments, including internal medicine with a special focus on oncology.
During her career, she has devoted her life to learning and teaching. In addition to leading several pet owner education courses including topics like first aid and CPR, she has also lead CE courses for other veterinary technicians on topics ranging from pet behavior to interpreting microscopy. In addition to her state licensure, she is also a certified NAVC Nutrition Coach.
She spends her time knitting, raising her kids (human and fur-covered), expanding her knowledge, and exploring ways to increase access to care for pet owners across the world.